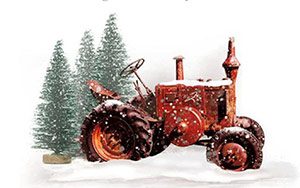 Find your treasures in a winter wonderland setting at JUNQUE Jingle's Vintage & Holiday Market on Saturday, November 2nd from 8:00am to 4:00pm. Guests can find all different kinds of antiques, architectural, vintage, farm finds, up-cycled, repurposed, and rustic chic items
from select vendors.
Held annually for only one day at the beginning of November, JUNQUE Jingle is a Vintage Holiday Marketplace, created and hosted by 2Market. All of the vendors are professionally judged for their types of wares offered and showcased. Located at the Walla Walla Fairgrounds Pavilion in Washington, attendees can purchase tickets online at www.junquejingle.com or at the door, available at 7:30am. To be able to get first picks, early entrance starts at 8:00am and is available for $10. General admission starts at 9:30am and costs $5.
Now that families have had their fill of harvest festivals, it's time to start diving into holiday markets, and JUNQUE Jingle is a great place to start. For more information and updates on the event, you can visit their website or Facebook page at www.facebook.com/JinglesandJunque. 
JUNQUE Jingle Vintage & Holiday Market
Saturday, November 2nd: 8:00am – 4:00pm
363 Orchard St. Walla Walla Fairgrounds Pavilion
Walla Walla, WA 99362