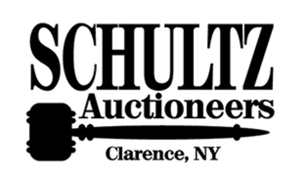 Schultz Auctioneers presents their July Antique Estate Auction on July 11, 2020 at 10am. There will be a collection of Art Glass including Tiffany, Steuben, Cranberry, rare Carnival and many more. Attendees can bid in house, at SchultzAuctioneers.net, or on LiveAuctioneers.com.
As founder of Antique World Market, Kelly Schultz has created one of the largest antique centers in the Western New York area, with over 200 dealers and 5 shops open daily. Kelly brings over 50 years of experience to the table and is Western New York's acknowledged authority on antiques, collectibles, and fine arts.
All auctions are held in Schultz Auctioneers' newly expanded 15,000 square foot building located on Main Street in Clarence, New York. They also hold on-site auctions throughout Western New York and surrounding areas.
On top of a collection of Art Glass, the July Antique Estate Auction will also offer jewelry, pocket watches, lamps, pottery by Teco, Moorecroft, Weller and Rockwood, Artwork by Roy Mason, Seymour Drumlevitch, M.T. Sacks, Emile Gruppe, and John LaFarge, among others, stoneware, arts and crafts furniture, guns, clocks, Native American and Asian items, vintage pinball machines, cameras, stamps, a collection of bicycles, trains, musical instruments, and much more.
To make a bid, attendees can go to SchultzAuctioneers.net or LiveAuctioneers.com. Bidders can also call 716-407-3125 for more information or to make a bid, as well as email info@schultzauctioneers.net to set up a phone bid. To view everything that is up for auction, visit bid.schultzauctioneers.net.