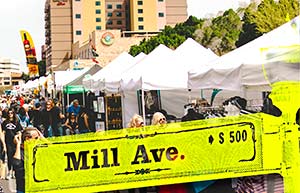 The popular 6th Street is growing into a new monthly event series — Second Sundays on Mill — which began in November 2021. After five seasons at 6th Street Park, they decided to take this event to the street. Second Sundays on Mill closes Mill Avenue in Tempe, Arizona, to enhance the heart of the city with a local market featuring a fantastic selection of Arizona-made goods.
Taking place on the second Sunday of every month from November 2021 through April 2022, this market will feature artisans, handmade crafts, baked goods, and unique gifts, as well as street performances, live music from local musicians, community programming, fitness classes, and outdoor games. This family-friendly event will also be surrounded by delicious eats and treats from local restaurants, creating a great way to mill around on a Sunday afternoon.
Event dates for the new year include January 9, February 13, March 13, and April 22. The market will be open from 10am – 3pm and each event will host a different theme. Second Sundays on Mill is actively recruiting market vendors and musicians to join them every second Sunday, and applications can be easily filled out on their website at www.downtowntempe.com/events/2nd-sundays-on-mill.
Second Sundays on Mill
Second Sunday of every month,
November – April 2022, 10am – 3pm
Mill Avenue
Tempe, AZ 85281