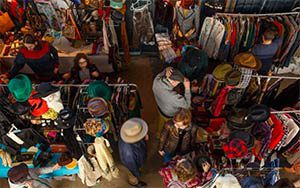 Phila Flea Markets is hosting a special event at Keneseth Israel Synagogue in Pennsylvania on Sunday, June 30th. Vendors from the Tri-State Area will be showing off an array of vintage merchandise such as antique furniture, collectibles, vintage jewelry, clothing, artwork, glassware, pottery, primitives and much more.
Phila Flea Markets has made the list for five of the best flea markets around Philadelphia in House Beautiful magazine.This market organizes the largest outdoor vintage flea markets that travel through Center City PA as well as the Main Line April through November. Market coordinator Tony Soprano runs two types of pop-ups each week featuring different items.
The Saturday market features antiques and collectibles from professional dealers, while the Sunday market is more of a giant garage sale. All of their pop-up markets are handicap accessible and vendor spots fill up fast, so if you're thinking of selling your wares, check out their market schedule on their website at www.PhilaFleaMarkets.org to see if any spots are available.
The Flea Market at Keneseth Israel Synagogue will take place from 8am to 4pm in Elkins Park. Phila Flea's is always on the lookout for new venues to host their events, so if you have any suggestions you can call 215-625-FLEA(3532) or email jackie@socialimpression.org.
Indoor Vintage Market Keneseth Israel Synagogue
June 30th: 8:00am – 4:00pm
83369 Old York Rd.
Elkins Park, PA 19027
Website.: www.philafleamarkets.org