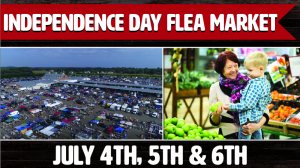 Celebrate the Fourth of July with Hartville Marketplace & Flea Market! Being held on July 4th, 5th and 6th from 7am to 5pm, this fun family event will host over 1,000 vendors selling loads of treasures and goodies begging to be taken home. From produce to antiques to comic books, you're sure to find something special at this event. 
With over 12 acres of outdoor vendor space, this makes the Hartville Marketplace America's largest outdoor flea market. Open five days a week, Hartville has been around for 80 years, beginning as a livestock auction in 1939. Now, this market is a collector's paradise that hosts multiple events throughout the year. 
The Operation Flags of Freedom will be lining the market drive during the Independence Day event with over 500 U.S. flags. There will be food trucks offering delectable pickings, live music to dance in the sun, and plenty of vendor booths with more than the eye can see. On site during the event will be Veteran's Outreach, Vietnam Vets Chapter 717, Marine Corps League: McKinley Detachment #277 as well as other organizations handing out information, selling merchandise and collecting donations for veterans. 
Come out and spend the day with your family and friends while also showing appreciation for those who have served our country and fought hard for our freedom. For more information, visit Hartville Marketplace's website at https://hartvillemarketplace.com. 
Hartville Marketplace & Flea Market
1289 Edison St. NW
Hartville, Ohio 44632
Tel: 330-877-9860