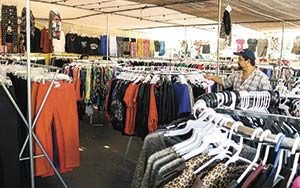 The summer never looked more enticing than at the Glendale Swap Meet. This market is a world of cheap, family fun with loads of shopping and a drive-in movie theater. On any regular day, guests can find endless rows of fresh-grown produce, quirky trinkets, stylish clothing and useful home goods. It's a one-stop bargain shop for amazing, affordable items!
The Glendale Swap Meet, located in Arizona, is just one of the many markets under West Wind Public Markets. Other market locations include Concord, CA; Oakland, CA; San Jose, CA and Reno, NV. Each market boasts monthly events, live bands and aisles of shopping for every age group.
Cool down from the hot Arizona sun at the snack bar at Glendale Swap Meet. Here, guests can find fountain drinks, coffee, water, hot dogs and hamburgers, nachos, ice cream and other goodies to enjoy while taking a break from shopping. The fresh produce offered at the market is up to 40% less than grocery prices, so be sure to stock up.
The Glendale drive-in theater offers plenty of must-see movies for the whole family. General admission is $7.75 for adults and children 5-11 are $1.75 per child. Children 4 and under are free. Tuesday is family fun night, with tickets being  $5.50 per person and children are the same price. Whether you're looking to snag a bargain or enjoy the friendly atmosphere, the Glendale Swap Meet is the place for you.
The Glendale Swap Meet
Open Saturdays and Sundays year-round: 5am – 5pm
ADM: Saturday is $0.75, Sunday is $1.50, children 11 and younger are free
5650 N 55th Ave.
Glendale, AZ 85301
Website: www.westwindpm.com/locations/glendale