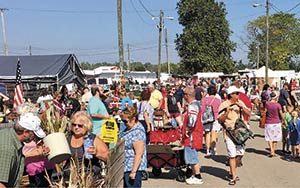 For over 40 years, The Springfield Antiques Show & Flea Market has been one of America's top events. Held nine times a year at the Clark County Fairgrounds in Ohio, this market constantly produces great antiques, vintage and flea market finds. Their next event, which takes place on August 17th and 18th, is a weekend no antique or vintage collector wants to miss.
The Springfield Antique Show and Flea Market has been a favorite source for thousands of collectors and dealers for many years. Known for its country antiques and primitives, this flea is often featured in decorating magazines including Country Living, Country Home and Martha Stewart Living. A highlight of this market is pottery and glassware made in Ohio by famous companies including Roseville, McCoy, Rookwood, Heisey and Cambridge.
The Springfield Antique Show's semi-annual Extravaganzas (May and September) feature over 2,000 vendors and 20,000 shoppers in an event so epic, it must be seen to be believed. Aisles of booths circle four exhibit buildings in the center of the grounds, which house high quality antique dealers. There are more booths in the cattle, rabbit, sheep and produce barns.
The market's August event entry fee for shoppers costs $3 per adult, and children under 16 are free. Guests can come and see all the treasures and knick-knacks that popular publications have been raving about. Find beautiful antique furniture made from quality wood, discover some unexpectedly delicious food, and spend a day with the entire family, including the dog!
The Springfield Antique Show & Flea Market
August 17th: 8am – 5pm
August 18th: 9am – 4pm
ADM: $3
4401 S Charleston Pike
Springfield, Ohio
Website.:http://www.springfieldantiqueshow.com/2016events/