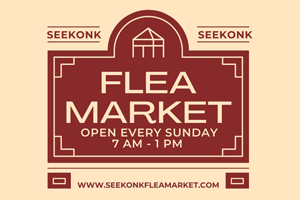 Known for its quality vendors and great shoppers, the Seekonk Flea Market has been the most well-attended and vendor profitable flea market in the Massachusetts area for years. Their 2022 season just began on March 27, and will continue every Sunday through December 4. 
Featuring antiques, collectibles, sporting goods, clothing, toys, tools, automotive, and so many other items, the Seekonk Flea Market provides the ultimate outdoor experience for buyers and vendors alike. This flea is located on the grounds of the historic Seekonk Speedway, where loads of other fun events take place throughout the year. Be sure to plan accordingly so you can attend a Speedway event and then hit up the flea market the day after!
The Seekonk Flea Market is always looking for new vendors to liven up the shopping experience, and the seller rules and registration form can be found on the market's website at www.seekonkfleamarket.com/vendor-information.html. The flea is open every Sunday from 7am – 1pm, and vendors can come to start setting up their booths at 6am. There is plenty of free parking both in the front and the back of the Speedway, making it easy for setup and take down. 
As an ever emerging public marketplace made up of independent businesses, vendors and shoppers alike can come and enjoy this fun and exciting experience! 
The Seekonk Flea Market
Every Sunday March 27 through December 4, 7am – 1pm
1782 Fall River Ave., Seekonk, MA 02771
www.seekonkfleamarket.com