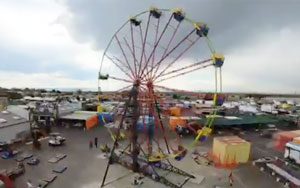 Mile High Flea Market in Colorado is reviving a piece of Denver history with the debut of the fully-refurbished Heritage Big Wheel: a 60ft tall, 16 bucket ferris wheel. This grand opening will take place on Saturday, August 31st, from 9:00am to 4:00pm.
Guests of all ages are invited to ride the ferris wheel, and the first 100 riders will get a free bumper sticker as well as some amazing photo opportunities at the top of the wheel. Freddie the Flea will be making a special appearance, so guests will be able to get photos with this character as well. Also be sure to check out the turkey leg combo deal at Turkey's Last Stand when you present proof that you rode the Ferris wheel.
The Heritage Big Wheel was made by the Eli Bridge Company. The ride made its debut in 1978 at Old Chicago Towne in Bolingbrook, IL and most recently was a local's favorite at the amusement park at Heritage Square where it was a prominent landmark until the park officially closed in June 2018.
Mile High Flea Market will be donating a portion of the proceeds from opening weekend ferris wheel ticket sales to Super Heroes 4 Charity, a local nonprofit that helps bring awareness about bullying, domestic violence and abuse to schools and the community with a message of hope and change. Guests can RSVP on the Facebook event: https://www.facebook.com/events/644768099339635/.
Heritage Big Wheel Grand Opening
Saturday, August 31 9:00am – 4:00pm
7007 E 88th Ave.
Henderson, CO 80640