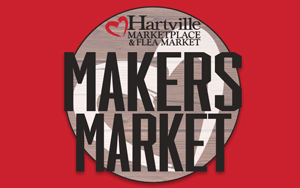 Hartville Maker's Market brings together makers from all backgrounds within the well-known Hartville MarketPlace. Come find unique vintage wares, handmade goods, and other one-of-a-kind pieces. Enjoy live music and food trucks while you shop at their Maker's Market on August 8.
Celebrating over 80 years, the Hartville MarketPlace is truly unique for everyone. They are the largest outdoor/indoor flea market in the U.S., with 45 annual events and over one million visitors per year. Featuring tons of vendors selling top quality products from locally grown produce to one-of-a-kind antiques, make sure to bring the whole family and experience all that they have to offer.
The Maker's Market is designed for handcraft, unique, vintage items with a fun atmosphere and live entertainment. The event runs from 9am – 4pm with 12 total acres to search through. Food trucks include Amish Country Donuts, D&M Grille, Euro Gyro, Snowie, and The Original Steaks and Hoagies Food Truck. Music will be played by Ben Gage.
Hartville Maker's Market
August 8th, 9am – 4pm
Hartville MarketPlace & Flea Market
1289 Edison St. NW, Hartville, OH 44632
www.hartvillemarketplace.com/events/makers-market-8-8-20