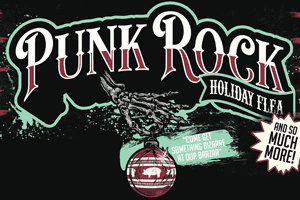 This flea market is bringing a little bit of punk rock and a lot of handmade goodies to New Haven, Connecticut. Taking place on Saturday, December 10 from 11am – 6pm, the Punk Rock Flea Market is a curated event full of unique, one-of-a-kind local vendors from Connecticut and surrounding states. 
Guests will be able to shop around and find everything from vintage clothing and antiques to original artwork and jewelry, and so much more. Whether you are shopping for holiday gifts for loved ones or looking to treat yourself, you are sure to find something spectacular at the Punk Rock Flea Market.
On top of perusing so many great vendors, this event will also feature live entertainment from local bands, DJs, tattooing and screen printing, contests, and interactive entertainment. There will also be plenty of food trucks to enjoy lunch and snacks at, even featuring vegan options.
Tickets are $10 at the door, and children 12 and under are free. VIP Advance tickets are available for purchase online only and for a limited time, which gets you in an hour early with a swag bag full of holiday cheer, so hurry on over to the website and purchase your VIP tickets today!
Saturday, December 10 from 11am – 6pm
College Street Music Hall
238 College Street, New Haven, CT 06510