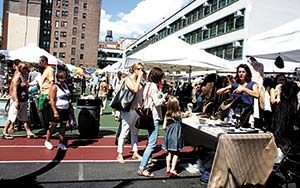 The GreenFlea Indoor & Outdoor Market lives up to its name as the best indoor & outdoor market in Manhattan. Offering a wide variety of antiques, collectibles, vintage clothing, jewelry and accessories, furniture and many other upcycled treasures, GreenFlea has been attracting the attention of vendors and buyers alike from the New York area and beyond.
Celebrating their 30th year, GreenFlea Market is open every Sunday from 10am to 5:30pm rain or shine. Free admission is also a nice plus! This indoor and outdoor event is made possible through the support of the NYC Department of Education.
All proceeds from the GreenFlea Market benefit four public schools: PS 87, The Computer School, PS 334 (Anderson Program) and PS 452. Money generated by the market is used by the Parents Association to provide enrichment opportunities for the schools. Since 1985, GreenFlea has provided the schools with more than $7,000,000, according to their website (greenfleamarkets.com).
On top of all the interesting finds, GreenFlea Market also has some of the best food on the Upper West Side. From Korean to Jamaican to pickles made in Jersey, there is a whole world of flavors at your fingertips. See what else you can find at the oldest and largest market in New York City.
GreenFlea Indoor & Outdoor Market
Every Sunday: 10am-5:30pm
100 W 77th St.
NY, NY 10024
Website.:www.greenfleamarkets.com