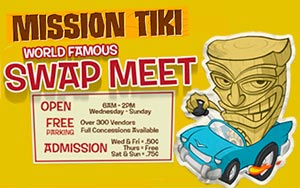 Few things say America more than apple pie, barbecues on the Fourth of July, and drive-in movies. From humble beginnings in the Depression-era to the unprecedented national phenomenon that became a definitive icon of an entire generation, the drive-in theater brought together two of the greatest American passions: the automobile and the movies. Shoppers can enjoy this nostalgic entertainment at the Mission Tiki Swap Meet.
This famous swap meet has been open since the 1960's and is now one of the foremost open-air markets in California. Each weekend, vendors from across Southern California gather to sell everything from wholesale goods to hand-me downs. Car shows, private events, and annual festivals at Mission Tiki have resulted in a growing swell of interest and a lot of smiling faces across the southland.
Originally called "The Mission" for its location on Mission Blvd in the city of Montclair, California, the Mission Tiki Theater opened as a single screen drive-in in 1956. In 1975, the theater expanded to four screens. Over the years, the swap meet has been revamped to resemble more of a tiki theme, upgraded to the latest technology, and added more food options in their concession stands.
Currently, Mission Tiki Swap Meet has resumed their regular hours. The theater is open nightly and the swap meet is open Wednesday, and Friday through Sunday. They simply ask that visitors wear a mask at all times except when inside their cars watching a movie and practice social distancing. Vendor stalls will be staggered to achieve proper social distancing of no less than 12 feet apart.
Mission Tiki Swap Meet
10798 Ramona Ave.
Montclair, CA 91763
Tel.: 909-628-0511
Web.: www.missiontiki.com