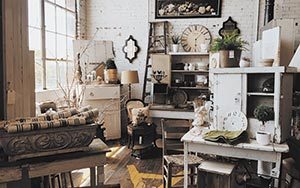 Lafayette Collectibles and Flea Market offers a premier bargain shopping experience for the whole family. Open every day, this market is one of the biggest and best in Colorado, with more than 175 different vendors offering a wide range of goodies and treasures. Among the aisles of vendors, guests can find furnishings, common goods, coffee tables, 1960s memorabilia, and eclectic and vintage curiosities.
Despite being large, Lafayette Collectibles and Flea Market has a small, family-feel. Pets are welcome on a leash and they also offer fresh homemade cookies at the entrance. Fostering a super-friendly feel, the owners have their two dogs in tow constantly and greet anyone and everyone.
No matter what you're looking for, either as an avid collector or just browsing around, you're guaranteed to find something that suits you at Lafayette Market. This collector's paradise is always welcoming new vendors, so give them a call at 303-665-0433 for space availability. You can also visit their website at m.mainstreethub.com/index.php/fayettecollectibles# for more information.
Lafayette Collectibles and Flea Market
Monday – Saturday: 10am – 6pm
Sunday: 11am – 5pm
130 E Spaulding St.
Lafayette, CO 80026