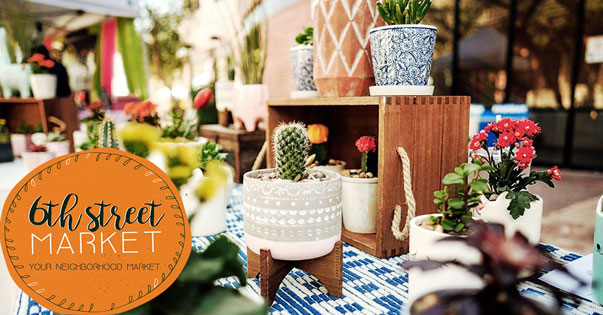 Back for their fifth season, 6th Street Market will be taking place for two whole months, so if you can't make it one weekend, there's plenty more to choose from. From October through November, this weekly event will be highlighting the fantastic selection of Arizona-made goods in Downtown Tempe. The vendor line up changes from week to week, so there's always more to see!
Since the fall of 2016, the mission of 6th Street Market has been to connect the community with local artists, makers, and food creatives. This market started with 20 artists and a coffee cart, and it has now grown to over 50 vendors consisting of local artisans, crafters, and food.
This weekly event has the perfect blend of local purveyors, food, artisans, and community right in the heart of Downtown Tempe at the popular 6th Street Park surrounding Tempe City Hall. Visit the 6th Street Market on Sundays to pick up some new finds, support small Arizona businesses, and grab a bite to eat.
The market is following all health and governmental authority recommendations and will be mandating masks for both vendors and guests, readily available hand sanitizer will be all over the market, booths will be spaced out for social distancing, surfaces will be frequently cleaned, food sampling will not be permitted, and product touching is limited. To see the vendor line ups for each week, visit the market's Facebook page at 6th Street Market every Thursday afternoon.
6th Street Market
Sundays, October – November from 10am – 3pm
24 E 6th St., Tempe, AZ 85281
www.downtowntempe.com/events/6th-street-market