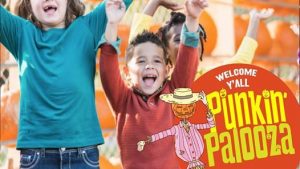 Enjoy six full days of live music, pumpkin patch and family-friendly fall fun at the annual Punkin' Palooza festival at Fleamasters Flea Market in Ft. Myers, Florida. From October 11-20, this event will be filled with pumpkins galore, pumpkin painting, shopping, pony rides, and so much more.
The two weekend event will feature a pumpkin patch and free entertainment. Musical groups include Cape Coral's 30 member Hafenkapelle Festival Band, Country Artist Colton James, The Frank Moravcik Polka Band, Dixie Jammerz and the Vallie-Burke Show. Young, and young-at-heart, dance groups will take the stage: Littleton Elementary's Lariots and Lace, The Hot Flashz Dancers, and SWFL Girls at Play.
Parking and admission are free for the Punkin'palooza. Attendees can adopt a pumpkin, with prices ranging from $5 to $15 per pumpkin, to paint and take home. Family members can create a special Pumpkin Festival memory at the "Pumpkin Farmer's Family Photo Spot."
On Saturday, Oct. 19, youth in S.W. Florida's Self Reliance Clubs will set up stands at Fleamasters to sell their wares: plants, arts & crafts, baked goods and more. It's a day for young folks to earn a buck at Fleamasters. Not yet a member of a Self Reliance Club? Anyone under 18 can be a part of the fair, and rent a space at Fleamasters for only $20. For a full schedule of events, visit the market's website at www.fleamall.com.
Fleamasters Flea Market Punkin'palooza
October 11-20
4135 Dr. ML King Blvd.
Ft. Myers, FL 33916
Tel.: 239-334-7001