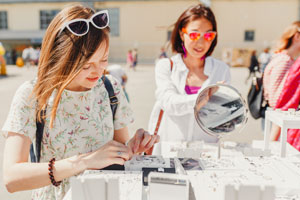 This holiday shopping season, increased prices are changing how consumers plan to spend their money. For example, the National Retail Federation (NRF) found that more customers plan to shop at discount stores (48%) and thrift stores (12%) this year than in 2021 (44% and 9% respectively).
Increased Interest in Flea Market Shopping
A flea market combines the discount and thrift pricing to offer a unique shopping experience. Each one is also made possible by local entrepreneurs who sell artisanal goods, secondhand items, trendy clothes, vintage discoveries, and more — and often at prices not available through other shopping experiences. Rob Sieban, CEO of United Flea Markets, says flea markets provide just the right amount of discounted products and fun experiences to satisfy shoppers during this frugal time period.
"Inflation is driving prices up, and consumers are getting more choosy about where they are spending their money. We are seeing that translate into increased buyers at flea markets because they are looking for better value and the fun entertainment experience of coming out to the market," Sieban said.
---
The Flea Market Industry is Resilient to the Pandemic
United Flea Markets owns and operates 15 markets across the country, and over the course of the last two years, business has been strong. Sieban said they were deemed essential businesses and consumers continue to visit every weekend to get the items they need. Not only has buyer attendance been strong, but Sieban has also noticed an uptick of vendors renting spaces at flea markets, as well.
"We attribute this to the fact that people are looking at different ways to supplement income and keep up with rising costs, and this whole thrifting hobby has taken on a life of its own as well as selling crafts or even cleaning out a closet. Flea markets offer products that you cannot find in a traditional mall, and because of this, we are seeing increases across the board," Sieban said.
---
A Look Into 2023
Because flea markets have shown their resilience to the pandemic, Sieban predicts a strong 2023 year for the industry. Whereas the rest of the world may be tightening up their budgets or still recovering from economic issues, United Flea Markets expects double-digit growth and a continued increase in buyer and seller attendance in all of their markets.
"We expect that consumers will be more aware of the value they are getting for what they are buying, so as we look into 2023, it will be critically important for flea markets to continue to evolve with the experiences they offer as well as making sure they have a mix of vendors selling different products," Sieban said. "Vintage and trendy clothes, as well as secondhand items, will continue to play an important role and will continue to grow over the next 12 months. We are very excited about the year ahead."