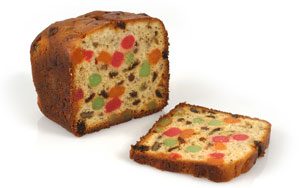 Have you ever gotten a fruitcake as a present and realized… you don't really like fruitcake? Well now you have something fun to do with that unwanted present or leftover cake just lying around! Seven different flea markets are hosting a fun-filled fruitcake toss and ugly sweater contest on January 25th.
Mile High Flea Market, Awesome Flea Market, J&J Flea Market, Ramona Flea Market, Mobile Flea Market, Keller's Flea Market, and Colorado Springs Flea Market are all participating in this event this weekend. Find the one nearest you and make a day out of it.
In-person registration will begin at 9am on the day of the event at each market's main office. You can also pre-register online through their Facebook's, which are provided below. Attendees must bring their own fruitcakes and can participate in both competitions. The Fruitcake Toss event, which starts at 11am, will be split into two categories: The Most Creative Toss and The Longest Toss. The Ugly Sweater Contest will begin at 12pm.
Here is the information for all of the participating flea markets:
Mile High Flea Market
7007 E 88th Ave., Henderson, CO 80640
Facebook: www.facebook.com/events/1001408676903982
Awesome Flea Market
165 Dawson Dr, Shepherdsville, KY 40165
Facebook: www.facebook.com/events/3314658121940239
J&J Flea Market
11661 Commerce Road, Athens, GA
Facebook: www.facebook.com/events/1423125597847624
Ramona Flea Market
7059 Ramona Blvd., Jacksonville, FL
Facebook: www.facebook.com/events/2602496239866642
Mobile Flea Market
401 Schillinger Road North, Mobile, AL 36608
Facebook: www.facebook.com/events/606947203438783
Keller's Flea Market
5901 Ogeechee Road, Savannah, GA 31419
Facebook: www.facebook.com/events/625525551567080
Colorado Springs Flea Market
5225 E Platte Ave, Colorado Springs CO 80915
Facebook: www.facebook.com/events/457038725222490