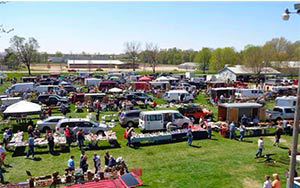 With over 150 vendors both indoors and outside, the Flea Market, Antique & Collectible Show in Maquoketa, Iowa is one of the state's largest shows. From antiques and collectibles to vintage items and a multitude of other treasures, this is one event you will not want to miss.
Now in their 37th year, the Flea Market, Antique & Collectible Show will take place on Sunday, July 11 and Sunday, September 19 at the Jackson County Fairgrounds from 8:30am-3:30pm. Admission is $4, and early bird admission between 6:30-8:30am is $10. Parking is completely free for both vendors and shoppers.
This will be the market's first show back since September 2019 due to the COVID-19 pandemic, so be sure to come out and see what you have been missing for the past year. If you are an antique dealer, a vintage buff, or a collector of treasures, call 319-462-0135 to get more information on renting a booth for either event.
Flea Market Antique & Collectible Show
July 11 & September 19: 8:30am-3:30pm
Jackson County Fairgrounds
1212 East Quarry St.
Maquoketa, IA 52060
Facebook: Maquoketa Flea Market & Antique Show