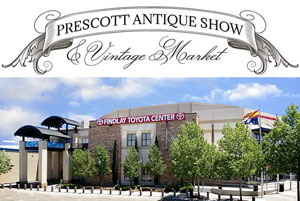 Located just 15 minutes away from Arizona's antique city, the Prescott Antique Show and Vintage Market will be back on June 18 – 19, 2022 at the Findlay Toyota Center in Prescott Valley, Arizona. This southwestern regional show will feature fine antiques, collectibles, retro, mid-century, farm, western, barn relics, furniture, and plenty of other treasures. 
The Prescott Antique Show and Vintage Market is the largest show in Arizona, with dealers and buyers coming from all parts of the Southwest, including Arizona, California, Colorado, New Mexico, and Nevada. This spacious venue, under one roof and air conditioned, welcomes back returning dealers as well as first-time dealers to the show. Parking is convenient and free, and general admission both days is just $5, while children 12 and under are free. 
This antique and vintage show is welcome to new dealers, and you can email greenoldthings@hotmail.com for more information on becoming a seller. Come on out West to one of the best places to visit!
The Prescott Antique Show & Vintage Market
June 18-19, 2022
Findlay Toyota Center
3201 N. Main St., Prescott Valley, AZ 86314
www.prescottantiqueshow.com