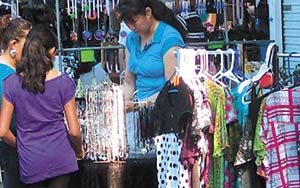 Guests can have a day full of bargain shopping, dining and entertainment at the Phoenix Park 'n Swap in Arizona. Offering a wide variety of  merchandise at remarkable prices, this market is conveniently open all year round on Wednesdays from 4pm – 10pm, Fridays from 6am – noon, and on Saturdays and Sundays from 6am – 4pm.
Phoenix Park 'n Swap was born in the 1960's with just three vendors and a drink stand. Since then, the market has grown to more than fifty acres populated by hundreds of vendors selling almost anything desirable and imaginable. Buyers can snag home furnishings, clothing, footwear, vehicles, cell phones, sunglasses, souvenirs and gifts, pet supplies and so much more.
On top of the endless shopping opportunities, Phoenix Park 'n Swap also has amusement park rides, live DJ's, food and drinks, and friendly services. Guests can take a break, sit down, relax and sip on a beverage while enjoying pizza, hotdogs, hamburgers, chips, warm pretzels, and more, all offered by the world famous Sportservice Company. Both shoppers and vendors have all sorts of choices whether it's breakfast, lunch, or a tasty snack.
Phoenix Park 'n Swap
Every Wednesday, Friday, Saturday & Sunday
3801 E. Washington St.
Phoenix, AZ 85034
Tel.: 602-273-1250
Website: www.americanparknswap.com