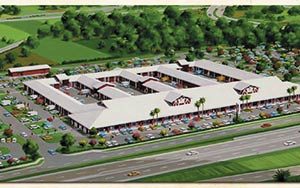 Coming into their busiest season of the year, Red Barn Flea Market has unique visitors coming from all over, including peacocks that roam around the grounds. From antiques and home decor to eyebrow threading and knitting classes, this market has a huge assortment of vendors selling anything you can imagine. 
Red Barn Flea Market is a family owned and operated business that started in April of 1981. There are 20 full acres and 145,000 square feet to shop, with ⅔ of the building air conditioned to keep guests comfortable as they shop. This market combines a traditional flea, plaza shops, food courts and open-air farmer's market all in one place. Shoppers can embark on a treasure hunt through more than 600 vendor booths and businesses. 
Red Barn Flea Market is home to dozens of unique sellers, including vendors offering specialty licorice from a family recipe, vintage Disney(R) items, local art, corn hole items, sports collectibles with signed jerseys, high end clothing, and many other innovative items. The market also has shops offering special services, including a veterinarian with clinic hours a few days a week, a hair salon, an eyebrow threading business, nail salons, a travel agency, teeth whitening and so much more. 
For those looking for a wide variety of products and services, or even just to walk around and kill some time, Red Barn Flea Market is the place to be. Guests can shop around and enjoy delicious food and snacks from a variety of food places, including an award-winning Mexican restaurant called Tio Carlos. 
Red Barn Flea Market
Open Tuesdays through Sundays: 9am – 4pm
1707 First St.
East Bradenton, FL 34208
Telephone: 941-747-3794
Website: www.redbarnfleamarket.com