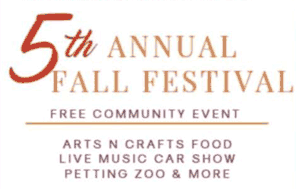 The air is starting to cool and fall is right around the corner, which means it's time for 13 On Fifth Antiques & Collectibles' Annual Fall Festival! For the fifth year in a row, this free community event will have local artists, arts and crafts, trendy treasures, live music, and so much more. This family friendly event will take place on October 3 from 9am – 1pm.
13 On Fifth Antiques & Collectibles is a vintage store situated in Luverne, Alabama. The business is making sure that everyone attending will adhere to COVID-19 safety restrictions, such as wearing a mask and maintaining at least six feet of distance between guests. Attendees can feel safe coming and meeting new people or enjoy a day out with friends.
The Fifth Annual Fall Festival will have tons of shopping, live music from Chris Eiland, a Crewnshar Kool Kidz car show, a Flying Pig Petting Zoo, kids activities, community awareness programs, and a Luverne High School art show. Guests can also enjoy some good food prepared by Norma Helen and some delicious shaved ice.
There will be door prizes every 30 minutes, so this festival is one you won't want to miss. Get some early holiday shopping done and support local artisans as well as LHS art students. There is literally something for everyone.
Fifth Annual Fall Festival
October 3, 9am – 1pm
13 Fifth Street
Luverne, AL 35049
Facebook: www.facebook.com/events/302793477615010