Fields of Antiques & Treasures at This Brimfield Show
By: Krystina Morgan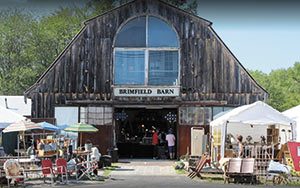 Antiques are always in style at the Brimfield Antique Show in Massachusetts. This huge flea market is the largest and best-known outdoor antiques show in the country, filled with thousands of dealers over the course of a week from July 9th to the 14th. Here, buyers can find the finest antiques and most unique treasures.
Beginning in the 1950's, the Brimfield Antique Show has been located in a quaint, picturesque rural New England town surrounded by apple orchards, horse farms and wooded hills. During show times, the event sees over 250,000 visitors and over 5,000 dealers over the course of the week. This antique show is a fun and safe environment for the whole family with plenty of food courts and aisles of treasures to sift through.
Dealers come from all over the world to showcase their items at the Brimfield Antique Show, which is broken up into multiple different fields. A map of the show can be found on their website, www.brimfieldshow.com. Some of the fields require a small entrance fee ranging from $5 to $10, which tends to get waived later in the day, and once inside you can move freely from field to field.
The Brimfield Antique Show is always welcoming new dealers, with or without experience. Check out the dealer's page on their website at brimfieldantiquefleamarket.com to see which field you can sell at and contact the field's promoter to get set up.
The Brimfield Antique Show
July 9th-14th
Website: brimfieldshow.com