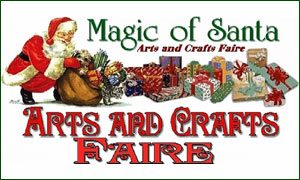 Guests will be able to hear sleigh bells jingling and ring-ting-tingling at this Magic of Santa Craft Faire in Reno, NV. On December 14th and 15th, attendees can look through wonderfully hand crafted gifts made by local crafters along with some vintage Christmas items from select vendors to find the perfect gift for their loved ones. 
The Magic of Santa Craft Faire has been running for 40 consecutive years and just keeps getting better year after year. Shop from fine arts and crafts from over 80 artisans and vendors, with items ranging from tole painted snowmen and beautiful doll clothes to fine woodwork and handcrafts for yourself and loved ones. 
Starting this year, the Magic of Santa Craft Faire will be held at a new location: the Reno-Sparks Convention Center by the Atlantis. The show will take place in the front "A" rooms of the building. Take a look at a map of the building on the website and make sure to park in the North lot by the Atlantis to get free parking! Just tell the parking attendant you are going to Magic of Santa.
The Magic of Santa show will be open Saturday, December 14th from 9am to 5pm, and Sunday, December 15th from 10am to 4pm. Admission is only $4, but if guests bring a can of food, socks, or warm clothing for St. Vincent's Charity Drive, the market will take a dollar off the admission price. Feel good about giving back to the community and even getting a dollar off the admission price. 
The Magic of Santa Craft Faire
December 14th – 15th
The Reno-Sparks Convention Center
4590 S. Virginia St.
Reno, NV 89502
Website: tannersreno.com/santa