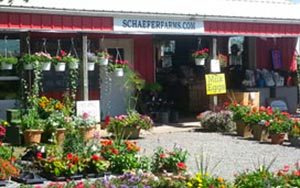 Open every day from May through October in New Jersey, come and check out the diverse vendors at Schaefer's Open Air Farm/Flea Market. Enjoy breakfast and lunch at the Farm to Fork food truck while you shop around and look at everything the farm has to offer. Schaefer's offers all things handmade, farm fresh produce and beautiful plants and flowers to add to your garden.
Owned and operated by the Schaefer family, Schaefer's Farms has been a member of the farming community for four generations. The farm stand offers milk, butter, cheese and their own eggs. They also have candy, chips, snacks, jellies, jams, local honey and ice cream.
You can also enjoy over 100 scents of soy blended candles from their candle company as well as an extensive, exciting selection of beautiful flowering annuals and perennials for the sun and shade. Schaefer's also offers beautifully arranged patio planters, decorative bowls and hanging baskets.
Summer is the time to enjoy fresh fruits, vegetables, flowers and farm animals. Their barnyard animals are showing off their new arrivals, so stop in and take a peek! Farm stand hours are Monday through Saturday, 9:30am to 6pm and Sundays from 10am to 5pm.
Schaefer's Open Air Farm/Flea Market
1051 County Route 523
Flemington, NJ 08822
Tel.: 908-782-2705
Website.: www.schaeferfarms.com