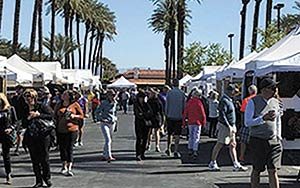 Distinguished by a scope of diversity and a wide variety of fine art, The Desert Art Festival boasts contemporary artisans and craftsmen displaying their artwork for sale. Taking place multiple times throughout the year, hundreds of talented vendors will gather for their next event at Frances Stevens Park in Palm Springs, California from February 15th – 17th.
The Desert Art Festival is presented by West Coast Artists. In 1983, Ronda Mills founded West Coast Artists and for over 30 years she has produced many of the finest art festivals throughout Southern California, Arizona and Nevada. The events promoted by Ronda feature exceptional artists and craftsmen offering high quality original artwork, from throughout the Western United States. West Coast Artists' events have been among the highest-rated, superior-quality fine art shows in California.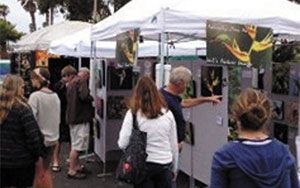 At the Desert Art Festival, contemporary craftsmen present unique styles of individually handcrafted functional and decorative pottery, raku, turned wood vessels and gourd art. Guests can also find hundreds of talented artists presenting their unique work in acrylic, collage, etchings, mixed media, oils, pencil, watercolors, digital and traditional photography. There is something for every taste and budget, be it a simple gift or the keepsake of a lifetime.
The Desert Art Festival
February 15 – 17, 2020 from 10am – 4pm
March 7-8, 2020 from 10am – 4pm
Frances Stevens Park
538 N. Palm Canyon Drive
Palm Springs, CA 92262
Website: westcoastartists.com