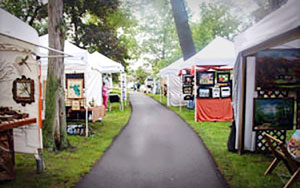 Bringing artists from the area together to showcase their talent, the annual Oakwood Fine Arts Fair will be held on August 15 from 10am – 5pm at Oakwood Resort in Indiana. With a tradition of celebrating art in all of its glory, this family-friendly event will take place outside so everyone can safely socially distance.
The Oakwood Fine Arts Fair, hosted by Chautauqua-Wawasee, highlights the power of fine art and its ability to evoke emotions from one's soul and helps us to see the world from a different perspective. Chautauqua-Wawasee is dedicated to the exploration of the best in human values and the enrichment of life through programs and events that educate and entertain, much like the Oakwood Fine Arts Fair.
This juried fine arts and crafts festival will feature award-winning artists, children's art experience, entertainment and food. Admission is free, so bring the family for a full day of fun for all. There will be over 30 artists from around the U.S., local food trucks, and a beautiful park setting. For more information, you can visit their Facebook page at www.facebook.com/Chautauqua-Wawasee.
Oakwood Fine Arts Fair
August 15, 10am – 5pm
Oakwood Resort, Syracuse, IN
www.chautauquawawasee.org/oakwood-fine-arts-festival-august-15-202o