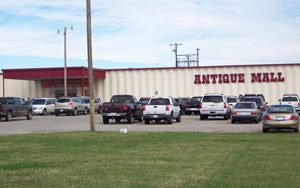 Named Winner of Favorite Antique Mall in 2017 & 2018 Wichita Eagle Reader's Choice Awards, Paramount Outdoor Vintage Markets in Kansas is a great day trip destination for buyers and vendors to mingle and bargain . Featuring three different locations that are open seven days a week, these markets have a variety of quality glassware, textiles, jewelry, pottery and china, furniture, clothing, and collectibles to choose from.
Since its opening in 1999, Paramount Markets has offered the very best in service and expertise to both consumers and vendors alike. One of their locations, Paramount Antique Mall in West Wichita, features 40,000 sq. ft. and over 225 booths, making it one of the largest antique malls in Kansas. Their second location, Paramount Eat Antique Mall, features 22,000 sq. ft. and over 125 booths.
The newest location, Paramount Marketplace, is located at 13th & Woodlawn in Wichita has over 200 booths in 35,000 sq. ft. Consumers can find all things antiques & vintage goods plus new home decor, furniture, fashion, jewelry & gifts at this market. Dealers bring in new stock daily, so there's always something more to look at.
The Paramount Markets are open seven days a week from 10am to 7pm Monday through Friday, 10am to 6pm on Saturday and Sunday from 12pm to 6pm. All three Paramount locations also host monthly flea markets April through October. These outdoor events offer even more of a variety to customers. Antiquers, crafters and collectors are welcome to sell. For more information on becoming a vendor, visit their website at www.paramountantiquemall.com.
Paramount Outdoor Vintage Markets
Mon.-Fri.: 10-7, Sat.:10-6, Sun.: 12-6
Wichita KS