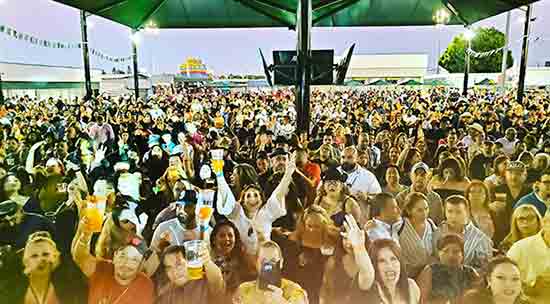 Boasting the most diverse offerings and providing unmatched quality and customer service to both customers and vendors, the Santa Fe Springs Swap Meet is an affordable, family-oriented retail and entertainment business in Southern California. This swap meet sits on over 17 acres of land and is open every Friday, Saturday, and Sunday.
Starting off in 1948 as the "La Mirada Drive-In Theatre," the market went through many different renovations and name changes, eventually landing on Santa Fe Springs Drive-In Theater and Swap Meet in the early 90's. This swap meet has a large stage and covered seating area where guests can enjoy live bands every weekend. The area also includes six large HD screens which show popular sporting events and shows. The market is a place where the entire family can have fun.
The swap meet has over 500 vendor spaces, with sellers offering everything under the sun including collectibles, clothing, toys, crafts, household appliances, electronics, tools, shoes, and more. They also offer a wide range of food and beverage choices, with a snack bar containing food trucks and kiosk carts serving everything from Mexican to their famous bacon wrapped hot dogs. Their beer bar is one of their most popular destinations, with a variety of ice cold beers available, as well as their famous micheladas.
Vendor information can be found on Santa Fe Springs Swap Meet's website at www.sfsswapmeet.com under the tab 'Vendor Info.' The market is a distributor of American Merchandiser magazines. It is super easy to become a distributor,  simply give us a call at 800-999-8281 to get your market set up to distribute our magazines.
Santa Fe Springs Swap Meet
13963 Alondra Blvd‎.
Santa Fe Springs, CA 90670
Parking Lot Swap Meet Hours:Tuesday – Thursday: 7am – 2:30pm
Inside Swap Meet Hours:Friday: 4pm – 11pmSaturday – Sunday: 7am – 5pm
Web: www.sfsswapmeet.com