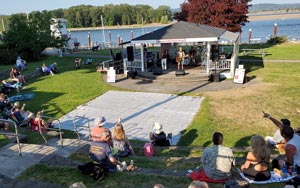 Those looking for more fun things to do this summer can enjoy this outdoor music festival. Held every Thursday from July to September, 13 Nights on the River is filled with tons of music, food, and a little bit of shopping.
This outdoor music festival will take place on September 3 with special guest Sweet Water Band, on September 10 with special guest Gabriel Cox, on September 17 with special guest All Jazz Night, and on September 25 with special guest Hit Machine. Tickets can be purchased at www.cityandtownevents.ticketleap.com/13-nights-on-the-river-2020/dates/Sep-25-2020_at_0600PM. Season passes and individual tickets are available.
13 Nights on the River used to be a free summer concert series and open air market. However, due to COVID-19, the market has a small entrance fee this year of $7 per general admission ticket. There will be food and merchandise vendors, but guests are allowed to bring their own beverages. The concert area is limited to 250 attendees and safe practices are in full force all over the market. Enjoy the last bit of warm weather while you can and come to this music festival!
13 Nights on the River
Every Thursday in September, 6pm-8pm
275 The Strand
St Helens, OR 97051
Web.: www.facebook.com/13nightsontheriver