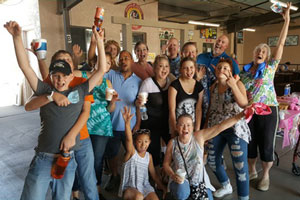 This Arizona flea market is celebrating the summertime with their new summer market hours and free live music in the food court every weekend. Starting in June, Mesa Market Place is open Saturdays and Sundays from 7:30am – 3pm, and the live music will be playing from 9am – 3pm. 
Open year-round, Mesa Market Place is a covered open-air market. Parking and admission are free, making it the perfect family outing for a day of shopping and live entertainment. The market features 600 small business merchants offering tons of 'gotta have' merchandise, including hardware, tools, jerky, clothing, jewelry, cosmetics, home improvement, collectibles, hats, footwear, art, and so much more. 
Take in the summer vibes at Mesa Market Place's food court, where they serve delicious omelets, breakfast burritos, scrambles, classic egg breakfasts, biscuits and gravy, and other favorites from 7:30am – 10:30am. After 10:30am, they serve pizza, deli sandwiches, soups, salads, and of course, the best Phillies, melts, tenders, hamburgers, nachos, hot dogs, and brats outside of a sports stadium the rest of the day. There will also be smoothies and ice cream, so be sure to save some room for dessert! 
Mesa Market Place
10550 E Baseline Rd., Mesa, AZ 85209
Tel.: 480-380-5572
www.mesamarket.com