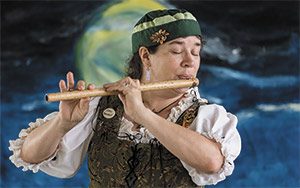 The Massachusetts Renaissance Faire is the perfect place to create memories, become someone else and immerse yourself in history. The summer months bring out all of the renaissance festivals and their magical performances, and the Massachusetts Faire has plenty of those and more to go around.
Whether you love watching knights clashing in a grand joust, seeing fire breathers dance with flames or listen to the sweet melodies of Renaissance music, you can find it all at the Massachusetts Faire. Some of the faire's performers include Shelli Buttons, Ravenbane's Firecraft and Stormy Knights. Grab a snack from one of their many food vendors and enjoy the show!
There will also be plenty of activities to join in on the fun including a kids tent with fun for the whole family, a book nook with fantasy novels to read while taking a break in the shade, costume contests, scavenger hunts and more. You can also browse the aisles of vendors selling mystical jewelry, apparel, home decor, handmade art and more.
Skip the lines at the gate and save money by purchasing tickets online in advance. Early bird one-day adult pass is $16, early bird one-day child pass is $8 and early bird two-day adult pass is $28. Adults are $20 at the gate and children are $10 at the gate. You can purchase your tickets online at www.tickettailor.com/events/massachusettsrenaissancefaire.
Massachusetts Renaissance Faire
Sat Jul 27 – Sun Aug 4
Saturdays: 10am – 10pm
Sundays: 10am – 5pm
97 Fairgrounds Rd.
Cummington, MA 01026
Website: massrenfaire.com