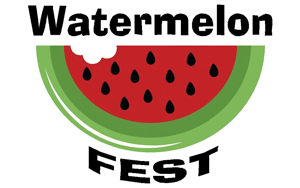 The 4th Annual Watermelon Fest is back to start the summer off right! Held at the Clay County Fairgrounds in Green Cove Springs, Florida, there will be tons of fun activities for the whole family. There will also be delicious food and drinks to energize in between activities.
Everyone in the whole family will have something to do during the Watermelon Fest. There will be arts and crafts, a free water slide and bounce houses, a free petting farm, free rocking painting and photo op, watermelon eating contests, free wacky watermelon games, and free sack races, just to name a few. In between activities, guests can snack on watermelon fudge, grilled watermelon, ice cold watermelon, deep fried watermelon, watermelon wine slush mixes, and other delicious food.
While all of the fun festivities will be taking place, live entertainment from Endless Summer, a Beach Boys Tribute Band, will be playing in the background. Attendees can also shop from other vendors set up at the Watermelon Fest as well as let their toddlers enjoy a free inside play area.
Admission is $6, and children two and under are free. Visit the Clay County Fairgrounds website at www.claycountyfest.com/WATERMELON-FEST.php for a $1 coupon at the bottom of the page. Guests can also bring a canned good for $1 off discount to benefit the Food Pantry of Green Cove Springs.
Watermelon Fest
June 27-28, 2020
10am – 5pm both days
Clay County Fairgrounds
2497 SR 16 W
Green Cove Springs, FL 32043