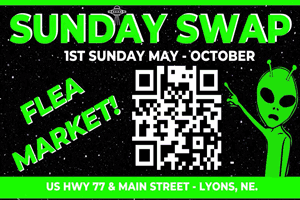 Shopping at the Sunday Swap Flea Market is always a unique experience. Located in Lyons, Nebraska, guests can peruse this outdoor market and find anything from tools and toys to antiques and collectibles. It is always a treasure hunt at this flea market!
The Sunday Swap Flea Market is open every first Sunday of the month from May through October, from 8am – 3pm. It is super easy to become a seller at this flea, and they are constantly welcoming new vendors each month. The price of a 10 x 10 outdoor space is $20, and a 15 x 20 space is $25. With a friendly atmosphere, same-day registration, and the lowest fees around, it is a great place to make some extra cash once a month. Here are some other great reasons to set up a booth:
Make Money.

Selling your stuff at this flea market is a fast and easy way to make some extra cash.
Affordable Spaces.

You can rent a space for as little as $20 to start.
Startup Business.

You have the ability to start your own business and watch it grow. 
Bargain Hunters.

Get in front of hundreds of customers each month. 
No Long-Term Commitments.

Sell your treasures each month or just one day. No long-term contracts are needed. 
For more information on becoming a vendor at the Sunday Swap Flea Market, visit their website at www.lyonsfleamarket.com. 
Sunday Swap Flea Market
First Sunday of each month, May through October
8am – 3pm
US Hwy77 and Main St., Lyons, NE 68038
Tel.: 402-738-0268