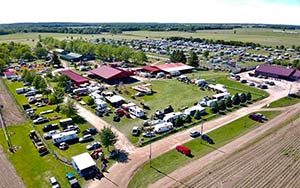 This flea market and swap meet offers the full camping, shopping, and all around fun outdoor experience. With over 6,000 vendor spaces available, they have a variety of sellers offering vintage pieces, antiques, jewelry, rusty goods, handcrafted and artisan items, repurposed goods, and so much more.
The Conesville Swap Meet & Flea Market will take place rain or shine on October 9-10, 2021, so dress accordingly. Vendors can come on Thursday and Friday to set up their booths, and gates open at 7am on Saturday to the public. Admission is $5 per person and tickets can be purchased at the gate. Management asks that all guests follow public health guidance, such as social distancing and personal hygiene. Since the event is taking place outdoors, they do not require that masks be worn, but attendees are welcome to if they want to wear one.
Free camping is available on the grounds, and all RV/camper/sleeper/travel trailers need to go north of the Drag Strip. There are no electrical hookups, but generators are welcome. There will also be hot showers, a toilet house, firewood, and food and drinks can be purchased on the grounds. Golf carts and four wheelers are welcome on the premises, but there is a 10 MPH speed limit. For more information, visit www.conesvilleevents.com.
Conesville 2021 Swap Meet & Flea Market
October 7-10, 2021
The Conesville Event Grounds
18745 hwy 70
Conesville, IA 52739