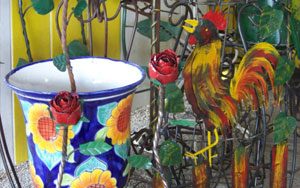 Placed at #8 on Travel Channel's "Top 10 World's Best Flea Markets," Austin Country Flea Market is one of the oldest and largest flea markets in the Central Texas area. This market has over 300 vendor spaces, live music every weekend, and delicious food at the concession stands.
At the Austin Country Flea Market, you can find tires, tools, electronics, crafts, collectibles, accessories, jewelry and much more new and used items. Located just 5 miles east of IH35 in Austin, the flea is open every Saturday and Sunday year-round from 10:00am to 6:00pm, rain or shine. There are covered and paved walkways so guests can still enjoy a day out shopping in the rain without getting soaked.
The market's concession stand offers yummy goodies such as nachos, coffee and hot chocolate, fried dough, hamburgers, hot dogs, ice cream, turkey legs and so much more. Some of the bands that have played at the flea include Enamorado, Alma Negra, La Tribu, and many other local hispanic bands.
For those looking to sell at Austin Country Flea Market, vendor booths are 8' deep x 10' wide. Each selling space comes with a picnic table and a parking spot, which can be used to park your car or as a selling space. Rental prices for Saturdays are $20/day, and Sundays are $40/day. To reserve a booth space, call 512-928-2795.
Austin Country Flea Market
Every Saturday & Sunday: 10am – 6pm
Parking: $2/car
9500 Highway 290 E
Austin, TX