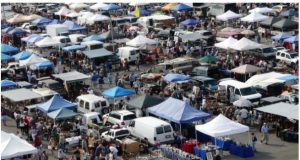 Please note that due to COVID-19, these event dates are tentative and are subject to being cancelled or postponed as the dates get closer. Check their website for the latest updates: www.longbeachantiquemarket.com.
Held on the third Sunday of every month at the Long Beach Veterans Stadium, the Long Beach Antique Market in California hosts over 800 sellers that offer all kinds of antiques, collectibles, vintage, and repurposed items. Known as "The Flea Market with Style," there are over 20 acres for guests to shop from.
Established kin 1982, The Long Beach Antique Market was named one of the "Top 10 Flea Markets in the U.S." by Good Housekeeping Magazine, the "Best Swap Meet in L.A." by Los Angeles Magazine, "Best Flea Market in Orange County" by OC Weekly, and in 2011 the market received the Reader's Choice Award for the best antique market by The Press Telegram. Join dealers, designers, and celebrities who shop "The Flea Market with Style."
The market's next event will take place on May 17, rain or shine, from 6:30am to 3pm. Parking is free and admission is just $7, and children 12 and under are free. Those who are early birds and want to start snagging all the best bargains at 5:30am can buy a ticket for $12.
The Long Beach Antique Market
May 17th : 6:30am – 3pm
Long Beach Veterans Stadium
4901 E Conant Street
Long Beach, CA 90808
Web.: www.longbeachantiquemarket.com