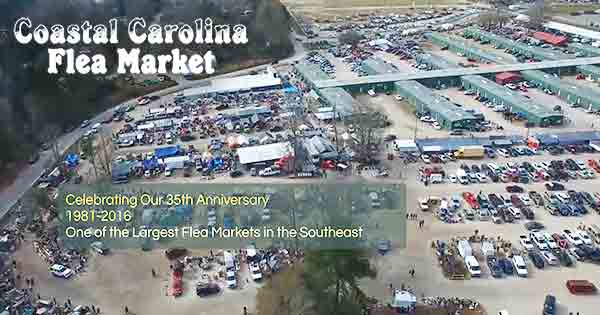 Being one of the largest flea markets in the southeast, the Coastal Carolina Flea Market offers plenty of shopping opportunities from over 1,000 indoor and outdoor vendors. Visitors come near and far to enjoy a truly unique shopping experience at this market as well to snag some delicious grub.
Founded in 1981, the market, located in Ladson, South Carolina, is the Charleston area's first and only true flea market. With over 47 acres of indoor and outdoor shopping available, guests can find treasures of all kinds, including fresh produce at the farmers market, furniture, clothing, household goods, electronics, jewelry, collectibles, tools, music, and so much more.
Coastal Carolina cares about their community, supporting a number of charitable organizations, including the Callen-Lacey Center for children. The market also offers free space to any non-profit organization (one space per quarter). Give them a call for more information on how you can get your free space.
Stop by one of the market's two restaurants: Weekends Restaurant or Market Cafe, to enjoy the best flea market cuisine on the east coast. Here, visitors can find delectable food such as homemade corn dogs, biscuits, fried shrimp, hamburgers, and hot dogs. Be sure to save room for ice cream, too!
The Coastal Carolina Flea Market is a distributor of American Merchandiser magazines. It is super easy to become a distributor,  simply go to https://americanmerchandiser.com/get-the-magazine/ or give us a call to get your market set up to distribute our magazines.
Coastal Carolina Flea Market
Open Saturday & Sunday 8:00am – 5:00pm
165 Market Dr.
Ladson, SC 29456
Tel.: 843-797-0540
Web.: www.coastalcarolinafleamarket.com