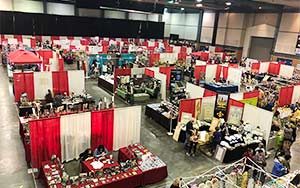 Bells are ringing, children singing and vendors selling at the Christmas Extravaganza in Covington, Louisiana. This premier show, brought to you by Steinhauer Productions, features 500 vendors offering different handmade and artisan crafts. The show will be held under fully covered areas at the Covington Fairgrounds, taking place from December 6-8.
Steinhauer Productions hosts several different market events throughout the year, including The New Orleans Home & Garden Show, Coquille Park Junefest, Christmas & Fall Market, Fallin For Madisonville Festival and The Christmas Extravaganza, all in Louisiana. The very first show was the Christmas Extravaganza, which took place 34 years ago. Now, the organization has something fun for every season.
Vendors selling at Steinhauer Productions' shows all offer original and handmade work, with many impressive wares including everything from jewelry and handbags to home decor and furniture. Many vendors have been a part of the organization's shows for a decade or more. Celebrate local artisans and small businesses by joining in on this fun event for the whole family, with touches of Christmas all over.
Christmas Extravaganza
December 6-8
Covington Fairgrounds
Covington, LA
Telephone: 985-796-5853
Website: https://www.steinhauerproductions.com/