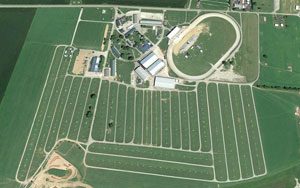 Come and see the new and improved Chillicothe Trade Days event! Featuring dogs and other farm animals as well as every kind of flea market treasure imaginable, this fun-filled event will take place from May 11th to the 12th. General admission is $5 and children 12 and under are free. The market will be open from 7am to 7pm on Saturday and Sunday from 7am to 4pm.
The management for the market has been identifying obstacles and creating an improved spectator crowd flow for Chillicothe Trade Days that will benefit both vendors and customers as they walk around. Parking for the Ross County Fairgrounds is free and all are welcome to bring their animals to buy, sell, or trade.
Anyone can be a vendor at Chillicothe Trade Days! Drag out your antiques or junk from the barn, garage, or attic and turn them into cash at the market. Vendor space reservations are on a first come, first serve basis and you can call 937-272-2897 to reserve a space. Vendor set-up day and early bird shopping is on Friday, May 10th.
Outdoor vendor spots are $50 in the "Campground Vendor Field," and include water and electric. Outdoor spots in the "Midway Vendor Field" are only $30, but electric is $5 extra for the weekend. Indoor vendor spaces are 10' x 20' and $40 for the whole weekend. Food vendors need to call 937-733-6002 for availability and pricing.
Chillicothe Trade Days Event
May 11th – 12th
ADM: $5, children 12 and under are free
344 Fairgrounds Rd.
Chillicothe, Ohio 45601
Website: www.chillicothetradedays.com