Even though St. Patrick's Day lands on a Tuesday this year, that doesn't mean you can't celebrate early with Mesa Market Place! Another free family event is taking place Sunday, March 15th from 10am to 1pm where guests can enjoy different kinds of entertainment and shopping.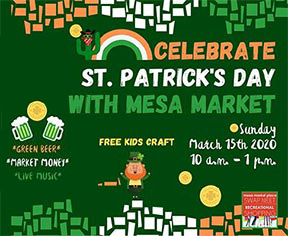 The Mesa Market Place is one of the largest marketplaces in Arizona, open Fridays, Saturdays and Sundays all year-round. There is more to see here than anyone can see in one day. A single breezeway covers a mile and a quarter of shopping lanes. In high season, 900 merchants stock 1,600 shops, so there is plenty to do.
The Mesa Market St. Patrick's Day event is perfect for guests to come and enjoy a discounted breakfast, which is served at the market food court, in the middle of the second row, Row B, from 7am to 10:30am. Coupons can be found on the market's website and guests can print them out or save them on their phones to show during checkout. Breakfast includes two eggs, toast, and hash browns for only $3 between 7am and 8am, or $3.50 between 8am and 10:30am.
The Market Food Court is also the location for the St. Patrick's Day event. Mesa Market will be hosting Market Money giveaways and a free craft table for children over at the main restaurant, with live music playing in the background. Attendees can shop while they sip on some green beer and enjoy a day out with the whole family!
Mesa Market Place Swap Meet
Sunday, March 15th: 10am – 1pm
10550 E. Baseline Rd.
Mesa AZ 85209
Tel.: 480-380-5572
Web.: mesamarket.com