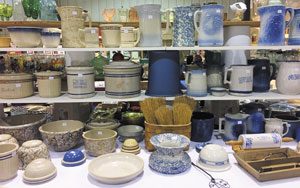 As the longest running flea market in South Dakota, Benson's Flea Market is a nostalgic experience sure to bring back memories from your childhood, stimulate excitement and provide hours of shopping entertainment. At this market you can find antiques and collectibles as well as new and trending items. It's a collector's dream!
Taking place the first full weekend of every month from September to April, Benson's Flea Market features anywhere between 90 to 140 vendors each month, filling the entire 30,000 square foot building. New vendors are always making their way into the mix, offering an eclectic array of items to browse. Guests can find exhibitors specializing in books, vintage jewelry, candles, Mary Kay® make-up, Coca-Cola® items, beer signs, coins, antiques, furniture, Barbie® dolls, Harley Davidson® collectibles and so much more.
Every first opening day, shoppers are lined up outside in the heat, rain, or snow just waiting for the doors to open. With a cheap admission of $2 for adults and free admission for children 12 and under, you can't go wrong spending your day browsing around. Start getting excited, because the market's next event takes place from December 7th to the 8th.
Benson's Flea Market
December 7 – 8, 2019
Expo Building – W.H. Lyon Fairgrounds
100 Lyon Blvd., Sioux Falls, SD 57107
Web.: www.blackincevents.com/benson-s-flea-market.html