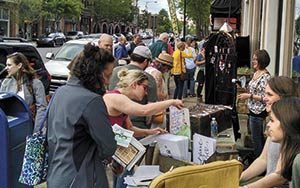 Created with the mission to promote local artists in partnership with local businesses and up-and-coming areas throughout Birmingham, Alabama, the Birmingham Art Crawl gathers on the first Thursday of every month. Guests can come and discover some of the most talented, interesting and innovative artists in the Magic City.
Founded in 2014 by Miranda McPherson and Richard Burton, the Birmingham Art Crawl was built on the premise of providing regular community art events, securing profitable and unique opportunities for artists and makers, and by providing opportunities for individual community members and businesses to engage with and support the arts in Birmingham.
Each month, Birmingham Art Crawl provides artists with a physical space for displaying and selling their work in downtown Birmingham. In addition to providing the opportunity for artists and artisans to exercise their talent and generate income, the expectation is that the community will benefit from Birmingham Art Crawl in the following ways: generate tourism, increase Birmingham's collective identity, improve community image and status, promote diversity, inclusion, tolerance and free expression, build on social capital, and create new business opportunities.
If you're interested in participating and selling your art, applying is super easy. Simply fill out the application on their website at www.birminghamartcrawl.com/participate, pay the $15 nonrefundable application fee, and wait for your application to be approved.
Birmingham Art Crawl
First Thursday of Every Month
120 19th Street North
Birmingham, AL, 35203
Website.: www.birminghamartcrawl.com