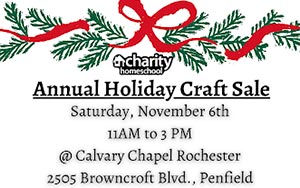 Get your holiday shopping done in one stop at this craft sale! Featuring a wide variety of merchandise such as knitted and crocheted items, handcrafted soaps and candles, original decor, ornaments, pottery, jewelry, gourmet food, and so much more, there is something for everyone on your list.
Taking place on Saturday, November 6 from 11am – 3pm in Rochester, New York, all proceeds from this Holiday Craft Sale will benefit Charity Homeschool Family and Teen events. Charity Homeschool Group is a Christian organization that helps families in the Rochester, New York area through support, co-op classes, online discussion, field trips, new homeschool seminars, and more.
When you purchase from vendors at this craft sale, you are supporting small businesses and helping our economy to recover. They will also have a bake sale, soup, and a raffle to benefit their organization. For more information, visit their Facebook page here.
Holiday Craft Sale
Saturday, November 6: 11am – 3pm
2505 Browncroft Blvd
Rochester, NY 14625