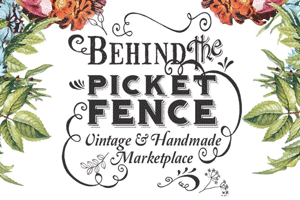 Celebrating their first event of the year on February 6, the Heritage Museum in Santa Ana, California hosts a Vintage & Handmade Marketplace where buyers can come and shop from over 75 amazing vendors selling everything from vintage, upcycled, repurposed, distressed, shabby chic, farmhouse, handmade, and one-of-a-kind finds. 
Behind the Picket Fence's "Vintage & Handmade Marketplace" sits on a beautiful 12 acres and features several buildings from the 1890's, rose gardens, citrus groves, a nature walk, farmhouses, and the Historic Kellogg House. Be sure to mark your calendars for their next events taking place throughout 2022 on May 1, August 7, and November 6. On top of fun shopping experiences and beautiful scenery, guests can also enjoy a beer and wine garden, live music, a trailer lane, and paint workshops. 
Tickets are only $5 per person, which includes entrance into the Kellogg House, and can be purchased online at www.behindthepicketfence.com to save time at the gate. Parking is always free, and a portion of the admission is donated to the Heritage Museum. If you wish to purchase tickets in person, they are cash only, and children 10 and under are free. All guests and vendors are required to wear a face mask and respect each other's space. 
Behind the Picket Fence "Vintage & Handmade Marketplace"
May 1, August 7, and November 6
The Heritage Museum
3101 W. Harvard Street
Santa Ana, CA 92704