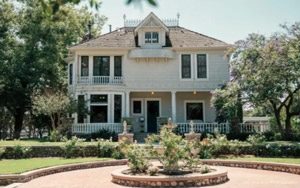 Nothing says 'autumn' like a good beer and wine garden surrounded by wholesome, local artisans selling their designs. Behind the Picket Fence has all of this and more at their last event of the year. Guests can sip a glass of wine or a beer while they shop from artists selling everything from rustic, re-purposed, up-cycled, shabby chic, wrought iron, garden and vintage home decor.
Behind the Picket Fence's Vintage & Handmade Marketplace will take place outdoors throughout the beautiful grounds of The Heritage Museum of Orange County in California. There will be plenty of shopping as well as food, desserts and a beer and wine garden. Parking is free and admission is only $5 which includes entrance to the Kellogg House. Kids 10 and under are free.
Admission donations go straight to the museum, which allows them to provide a "hands-on, minds-on" quality, interactive, educational programming and helps support the passion for the study of history. The Beer and Wine garden is located across from the Maag Farmhouse. You have to be 21 and older and wearing a wristband to enter this area, and wristbands are given out at the entrance.
There is free parking located along the street and at the elementary school right next door. There is also handicap parking located near the entrance of the market. 2020 dates for the market have already been announced and will be held on February 2nd, May 3rd, August 2nd and November 1st.
Vintage & Handmade Marketplace
Sunday, November 17th, 9:00am – 3:00pm
ADM: $5, kids 10 and under are free
The Heritage Museum of Orange County
3101 W. Harvard Street
Santa Ana, CA 92704
Web.: behindthepicketfence.com