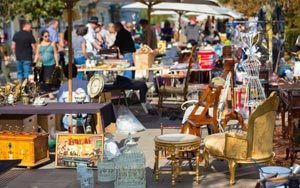 Filled with an array of jewelry, art, and all things crafts and homemade goodies, the Lucky Squirrel Outdoor Flea Market Craft & Vendor Event is back in town for the spring, summer, and fall months. One of the largest flea market and craft shows in the Garden City, Michigan, area, the Lucky Squirrel will host over 150 vendors and artisans selling goods such as homemade soap, pet products, vintage wares, seasonal jams, honey, books, toys, and various kinds of arts and crafts.
This year, the Lucky Squirrel will be held rain or shine May 18th, June 15th, July 20th, August 17th, and September 21st from 10am to 3pm. This outdoor event will be located in the Garden City Town Center Shopping Plaza in Michigan. With free admission and parking, shoppers will also be able to snack on some yummy baked goods and food trucks located on site.
The Lucky Squirrel is offering vendor spaces for only $15 for a 10×10 parking spot. Multiple spaces are available to rent, and vendors may sign up for more than one date. The vendor application can be found on their website at gcdda.com/upcoming-events. Due to the continued growth of the Lucky Squirrel, vendor registrations will be accepted on a first come, first served basis and will be subject to approval, so sign up early to guarantee your spot!
The Lucky Squirrel Flea Market Craft & Vendor Event
May 18th, June 15th, July 20th, August 17th, September 21st 10am – 3pm
29213 Ford Rd.
Garden City, MI 48135
Tel.: 734-261-2830
Website: gcdda.com/upcoming-events