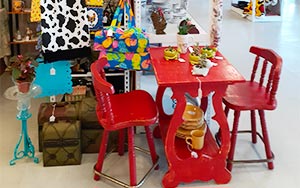 Whether you are on the hunt for antiques and collectibles or newer items, Lufkin Merchant Mall has it all. Located in Lufkin, Texas, this consignment mall and swap meet boasts several antique booths, as well as vendors selling health and nutrition products, beauty, clothing, jewelry, metal art, woodwork, and many other items.
On top of allowing new and used merchandise to be sold, Lufkin Merchant Mall also buys jewelry, gold, furniture, clothing, body care, art, antiques, and other objects that consumers may be looking to sell for some extra cash. This market is open Tuesday through Saturday from 9am – 7pm, and Sundays from 1pm – 7pm all year round. The only day they are closed is Monday. For more information on the different vendors at the market, visit their Facebook page at www.facebook.com/groups/458203325446765/.
Lufkin Merchant Mall is a proud distributor of American Merchandiser magazines.
Lufkin Merchant Mall
535 S Chestnut Drive
Lufkin, TX 75901
Tel.: 936-222-8360