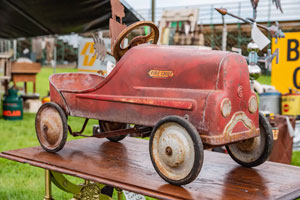 Are you tired of the supply chain blues and waiting what seems like forever for items purchased months ago? We have your solution — every single item being sold at the Springfield Antique Show & Flea Market is in stock and ready to go home with you. Get ready with a cozy sweater and warm boots for their September Extravaganza event. 
Taking place September 16-18, 2022 at the Clark County Fairgrounds in Springfield, Ohio, this event is the greatest sport in antiques, vintage, and bargain hunting. Shop from over 2,000 vendors selling great antiques, vintage and flea market finds. Media outlets including Country Living, Country Home, Martha Stewart Living, and CNN have proclaimed the Springfield Antiques Show & Flea Market "one of America's best." General admission is $3 per day. 
If you are interested in selling your treasures at this famous event, call 937-325-0053 or fill out the vendor application on the website by clicking here. Limited vendor space remains, so be sure to secure your spot today to get in front of thousands of shoppers! For more information, visit their website at www.springfieldantiqueshow.com. 
The Springfield Antique Show & Flea Market
September 16-18, 2022
Clark County Fairgrounds
4401 S. Charleston Pike, Springfield, OH 45502